Clinical results
IVI is one of the European centres with the best pregnancy rates: 9 out of 10 couples that consult IVI due to problems with infertility and who put their trust in us achieve their goal.
The effectiveness of assisted reproduction treatments varies depending on the technique chosen and the reproductive prognosis of the patients. At IVI assisted reproduction clinics, techniques such as egg donation, give an accumulated pregnancy rate of close to 97% over three attempts.

92%
Success rate
accumulative pregnancy

+22.000
Treatments
per year

97,5 %
Success rate
accumulative pregnancy with egg donation

59%
PGD
has identified 59% of abnormal embryos

+6%
Pregnancy rates
Pregnancy Rates Increase of 6% in patients from 40 to 44 years

+3%
Pregnancy rates
Pregnancy Rates Increase of 3% in patients from 35 to 39 years
Clinical pregnancy rate after three attempts of IVF and Oocyte Donation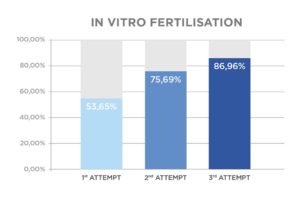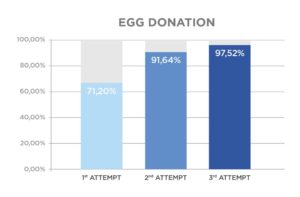 The ongoing work of our professionals and the incorporation of all the latest technology enable us to improve our pregnancy rates every year.
All of the clinical results obtained have been audited by an accredited company (SGS) and a verification report is available as proof of this.
Where can I download the clinical results?
What are my chances of getting pregnant if I have failed in other centres?
50% of in vitro fertilisation (IVF) patients who have had up to four previous failed attempts in other centres manage to get pregnant with IVI.
Do vitrified oocytes have the same results as fresh oocytes?
At IVI, the results achieved through the use of vitrified oocytes are similar to those achieved when using fresh oocytes.