A study by IVI Sevilla in collaboration with the IIQ (CSIC) yields new data on the possible causes of polycystic ovary syndrome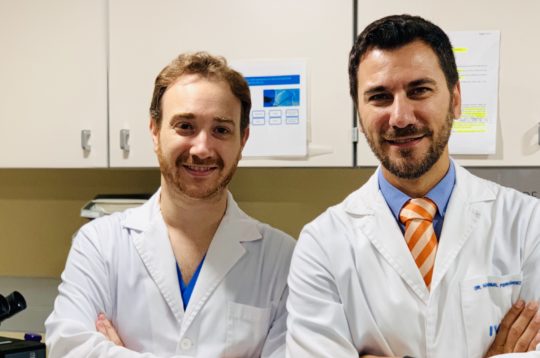 These findings allow a deeper understanding of the causes of polycystic ovary syndrome and could lead to the development of new treatments.
This disease affects around 5-15% of women of reproductive age and is one of the most common causes of infertility.
IVI Sevilla, together with the Instituto de Investigaciones Químicas (the Institute of Chemical Research, which is attached to the CSIC, Spain's Higher Council for Scientific Research), has carried out a study focusing on the possible causes of polycystic ovary syndrome (PCOS). The study, led by embryologist Víctor Blasco working with a team of researchers that also included Dr Manuel Fernández, Director of IVI Sevilla, has already been reported at several national and international conferences, as well as being published in the Journal of Assisted Reproduction & Genetics.
The research team analysed the levels of expression of the proteins neurokinin B and kisspeptin, as well as their receptors. Their presence and function in relation to the hypothalamus has been widely described, as they are essential regulators of the reproductive hormonal axis. What is new about this study is fundamentally that is sheds light on their role on a molecular level in the ovary. In other words, how they are manufactured or synthesized and what their role there is, as well as their possible involvement in PCOS.
The participants in this study comprised 43 patients undergoing assisted reproduction treatments who had been diagnosed with PCOS and 46 egg donors. The women in both groups underwent controlled ovarian stimulation treatment in order to induce multiple ovarian follicles – the structures in which ova grow – to develop and mature.
The research team's hypothesis was: if the expression of neurokinin B, kisspeptin and/or their receptors was altered in patients with PCOS compared to fertile donors, this could be a genetic factor involved in the occurrence of the disease.
To test this, Víctor Blasco, the lead researcher on the study and embryologist at IVI Sevilla, explained: "we analysed the levels of expression of these genes in follicular fluid and basically we established that they were different in the case of patients with PCOS compared to the donors. These anomalous levels may contribute to abnormal follicular development and to the ovulation problems observed in these patients."
This discovery could open the door to the development of drugs that would allow the symptomatology of the disease to be corrected. In subsequent phases of the study it will be investigated whether the expression of these genes is also affected in cases of advanced maternal age, endometriosis and low ovarian response.
Polycystic ovary syndrome (PCOS)
PCOS is an endocrine disorder that affects around 5-15% of women of fertile age and for which, at present, there is no cure and no specific treatment. It is generally characterised by: a lack of ovulation, which in the long term leads to irregularities in menstruation; high levels of androgens – male hormones – one symptom of which is excess facial or body hair; and the appearance of cysts on one or both ovaries. Other typical symptoms are acne, obesity and insulin resistance.
No diagnostic tests exist for this disease. As a result, specialists usually study patients' clinical and family history and they may recommend a pelvic exam, an ultrasound scan and a blood test to measure hormone levels. It is one of the main causes of infertility in women. For that reason, women diagnosed with it who wish to start a family are advised to consult their gynaecologist if they have not managed to become pregnant after six months of unprotected sexual relations.