IVI Sevilla has enabled the birth of a baby who has succeeded in curing his sister's rare disease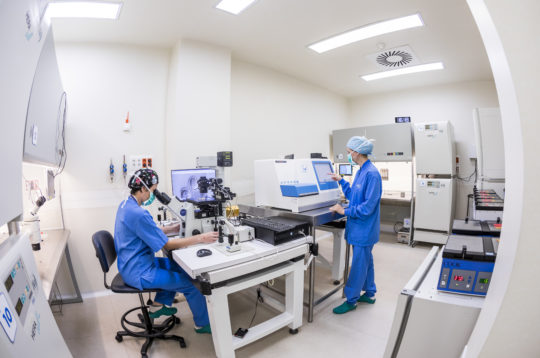 This is the first case in the world involving HLA-compatible pre-embryo biopsy at blastocyst stage to cure Diamond-Blackfan anaemia, and the first in Spain for any disease.
Up to now, all cases had involved biopsy at day 3 of pre-embryo development and not after 5-6 days, when the chances of implantation and pregnancy are much greater.
IVI Sevilla, thanks to advances in reproductive medicine and genetic compatibility testing, has contributed to curing an Andalusian girl suffering from Diamond-Blackfan anaemia, a rare disease for which her parents were not carriers.
The disease came about as a result of a de novo genetic mutation, meaning that the chances of any other children that the couple might have suffering from the same disease is extremely low. However, in order to cure the little girl – which was achieved by a stem cell transplant – it was also necessary for the donor to be HLA compatible, and the couple's other daughter is not.
"HLA antigens (Human Leukocyte Antigens), are coded on a group of genes and they are responsible for making sure that organs or tissues that are transplanted from one individual to another are not rejected by the recipient. In this case, the probability of having a healthy or carrier embryo that was HLA compatible is somewhat less than 20%. As such, reproductive medicine presented itself as the perfect tool for finding a solution," explained Dr Manuel Fernández, Director of IVI Sevilla.
And so, after several failed attempts at a centre with experience in this technique, the patients came to IVI Sevilla in 2014, where, over several cycles, a total of 13 embryos were obtained that could be biopsied at blastocyst stage, on day 5 or 6 of development. Of these, only two were HLA compatible with the sick child, and one of these gave rise to the desired pregnancy that would bring about the cure.
A global milestone: an HLA-compatible blastocyst biopsy to cure Diamond-Blackfan anaemia
"This case is especially relevant on a scientific level because it concerns a biopsy carried out on the embryo at blastocyst stage, which is reached around 5-6 days after fertilisation. It is the first case in the world in which such a biopsy has been performed to cure Diamond-Blackfan anaemia at blastocyst stage, and the first case in Spain at this stage of development for any disease, according to what has been reported in the scientific literature," explained Dr Fernández.
"Generally speaking, embryos are biopsied on the third day of development. However, by waiting these two or three additional days, the process is optimised, because the embryos that show a lower potential for implantation and, consequently, for achieving pregnancy, are immediately rejected," concluded the specialist.
Diamond-Blackfan anaemia
Diamond-Blackfan anaemia is a rare disease that affects the correct production of red blood cells by bone marrow. As a general rule, it is detected during a child's first year of life and it can lead to a greater risk of suffering from leukaemia and sarcoma, as well as a higher chance of suffering from bone cancer. Furthermore, 50% of cases present congenital malformations and 30% of cases involve growth retardation.
New lives to cure older siblings
According to a study by the European Society of Human Reproduction and Embryology (ESHRE), only 15% of member centres offer PGT-HLA among their services. "At IVI all of our clinics offer this. For example, through the Foundation, at our centre we have already carried out three HLA-compatible genetic tests in order to cure sick older siblings," the specialist pointed out.
In fact, in its nearly 30 years dedicated to reproductive medicine, IVI has reached various landmark achievements in terms of curing genetic diseases. Back in 2012 it managed to cure Izan, a boy of 11 years old affected by adrenoleukodystrophy, thanks to preimplantation genetic testing (PGT). After generating an embryo that was free from the disease and HLA compatible with Izan, this implanted successfully in the maternal uterus and then split into a twin pregnancy, resulting in the birth of Noa and Leire, whose stem cells saved the life of their older brother.
VI Jornadas de Reproducción Asistida at IVI Sevilla
On 14 and 15 November, the VI Jornadas de Reproducción Asistida were held in Seville. The aim of this course on assisted reproduction is to provide a global overview of the various techniques and the latest advances in the field of reproductive medicine. Over the course of these days the latest advances in genetics, immunology and embryology were reviewed, and the hundred or so attendees had the opportunity to share their knowledge with some of the most renowned experts in the field of reproduction.