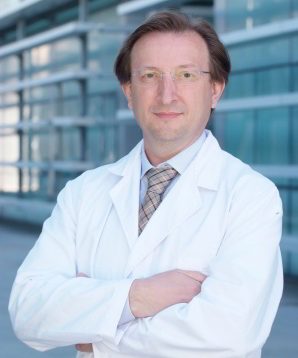 The study has been awarded as Prize Paper by the Society for Reproductive Endocrinology and Infertility, in this year's ASRM Annual Meeting
The ERA receptivity test, developed by IVI and commercialised by Igenomix, improves pregnancy rate in patients under 38 years old by 24%
A randomised trial was conducted on 356 patients from five countries world-wide, and substantiates the success of the test
The ERA test personalises treatment and works out the day in which the embryo transfer will be successful for 85% of patients
Salt Lake City (UT, USA), 19 October 2016
Professor Carlos Simón, Scientific Director of the IVI Fertility Group and Igenomix, has presented a new prospective and randomised study at the annual ASRM congress in Salt Lake City entitled: Prospective, randomised study of the endometrial receptivity analysis (ERA) test in the infertility work-up to guide personalised embryo transfer versus fresh transfer or deferred embryo transfer.
The study offers proof that the ERA test, which to date has only been used on patients encountering fertility problems, offers a significant improvement to overall pregnancy rates – which according to the latest results now stands at 85% in personalised transfers.
The ERA test (Endometrial Receptivity Analysis) works by analysing the expression of 238 genes in the endometrium, providing insight into their receptivity, or lack thereof, when embryo transfer takes place. In recent years, ERA has enhanced the reproductive prognosis of many patients by offering a personalised window of implantation.
Developed by the IVI Foundation, and patented and commercialised by Igenomix, ERA determines the optimal moment for embryo transfer to take place on a case-by-case basis, to create a fully personalised treatment plan.
Professor Simón comments on the new study:
"In order to enhance conception rates for couples suffering from fertility problems it is important to take a personalised approach – and this is what our new study demonstrates. The ERA test can save on time, expensive tests, and incorrect diagnoses. The test plays a crucial role in embryo transfer by making sure the embryo is implanted within a specific time window"
Research states that endometrial receptivity takes place within a limited window of time, between the 19th and 21st day of the standard menstrual cycle – this is known as the "implantation window". In a natural cycle, ovulation and endometrial development are in sync meaning that the implantation window opens at the same moment that an embryo is ready to be implanted. With assisted reproduction, this window may shift so it's important to personalise treatment so that the optimal moment can be determined.
"The development of new 'omics' technology, accompanied by bioinformatics analysis of data offers us a new insight into endometrial receptivity and its connection to fertility treatment. According to data we've obtained from this study, all women under 38 years old with endometrial problems are eligible to try the ERA test, as we've found that their reproductive prognosis can be increased by 24% if embryo transfer takes place on the day recommended by the ERA test", added Professor Simón.
The ERA test is currently the only tool available to evaluate the status of endometrial activity from a molecular point of view. In addition to significantly improving pregnancy rates, in the last four years it has also offered a solution for more than 10,000 patients who have struggled to conceive despite several attempts.
In total, 356 patients under 38 years old took part in the study between 2013 and 2016, receiving treatment in fertility clinics located across five different countries (Spain, Bulgaria, Belgium, Panama and Italy).
As a result of its findings, the study has been selected by the Society as the Reproductive Endocrinology and Infertility Prize Paper for this year's annual meeting.