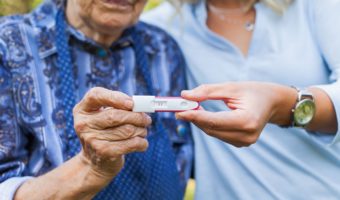 I'm a grandmother with two daughters – K & D.  K's daughters are now 10 and 9, so we have already had many happy years of being grandparents.  D (who is 4 years younger than her sister) didn't get married until just before she was 40.  So the next Xmas we were thrilled to be celebrating their announcement of a baby, even though the scan was a very early one.  Sadly, after around 8 weeks, D lost her baby.  It was a few more months before she became pregnant again.  Once again, this didn't last and so the third miscarriage was really no surprise.  But by this time, I think we all realised that the older D got, the less the chances of her keeping the baby.  Both D and her husband spent money getting more professional help, but no results were forthcoming.
Gradually, talk about an egg donation came up.  Strangely enough, both sets of grandparents were totally behind the idea straight away, as we had all been supportive to them both right from the beginning.  But, of course, for a couple themselves, it's a big decision and not one which one rushes into.  However, from various contacts we had heard that Spain was very much in the forefront with egg donations.  This appealed to us all – especially since D's husband, A, is Mexican.   After more deliberation, D & A discovered that there was a clinic in Malaga.  As we were familiar with the area, having spent many years of holidays near there, it seemed an ideal choice.  But, of course, one has to go there to meet the staff and find out more.  There was a clinic in London that liaised with the Spanish clinic, which was a great help, and saved flights. 
Nevertheless, they both flew over and met Dr Anabel Salazar of the IVI Malaga clinic, and returned totally reassured that they were on the right path.  Nothing was done hastily without ensuring that D had a complete health check without any infections.  On one of the trips to Spain, D's husband was unable to join her, so it was agreed that I would go instead.  Over the months, without showing it to D and A, I have to admit that both my husband and I were beginning to wonder if they would ever become parents.  Obviously, if you have one daughter, you want the same for your other one, and I can honestly say that there were lots of sleepless nights hoping – and praying – that things would work out for them. 
But walking into the clinic and meeting Dr Anabel Salazar was the complete turning point for me.  Here was someone who was going to make it possible, and I could hardly believe it when she said that the next month the donation could take place.  From then on, I never really doubted that it was going to happen, and in spite of a lot of medication being involved, one knew it was all part of the process.  Also, the fact that the donor was in her 20s made us feel a lot more confident about the progress of the pregnancy.
I suppose I want to pass on the message to those who are thinking about an egg donation to seriously consider it.  There are so many young women now who are in their early 40s and time is running out for them.  I am convinced that without it, our daughter would never have been able to have a full term pregnancy.
And now – D is nearly 7 months pregnant – and blooming.  Ok, she experienced the usual pregnancy sickness, but I look at her now and think how wonderful it is that the IVI clinic has made this possible for our family.  We will always be so grateful to them for making it possible to add yet another granddaughter to our family!