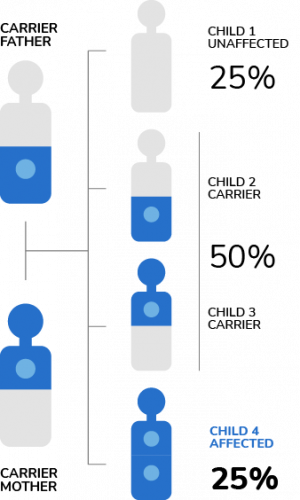 We can all be healthy carriers of genetic disorders without presenting any features or symptoms. Being a healthy carrier means that out of the two copies of a specific gene, only one has a disease-causing alteration. This is known as a mutation. While one copy is normal, the gene is able to function properly with no implications for the carrier.
However, in cases where two healthy carriers of the same genetic mutation have a child, there is a 1 in 4 chance that their child will be affected by that genetic disease. This means that with each pregnancy, there is a 25% chance that the child will be born with a life-altering health condition.
If you and your partner are both carriers of the same mutation, it is possible to avoid passing down the genetic condition to your child by undergoing IVF with a genetic screening test which can detect whether an embryo is affected by a genetic mutation. Only unaffected embryos will be transferred.