Myth busting: The truth behind IVF treatment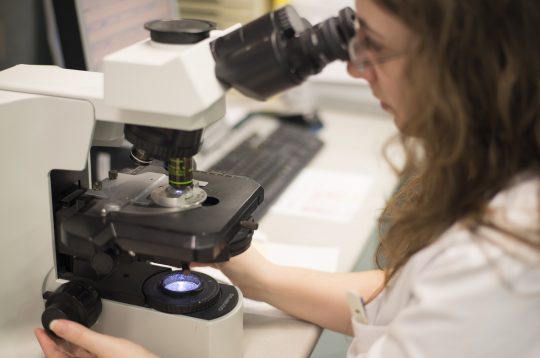 Medical Director of IVI Fertility Valencia Dr Ernesto Bosch debunks common myths surrounding IVF treatment.
Founded in 1990 as the first medical institution in Spain fully dedicated to Human Reproduction, IVI Fertility has 26 clinics in seven countries around the world and is viewed as a world leader in fertility research and implementation.
Since becoming established, IVI has helped over 90,000 children to be born around the world through the knowledge of its experts and pioneering development and implementation of technology and practices to give those struggling to conceive the chance of becoming parents. Over the last 10 years IVI has welcomed close to 4,000 UK patients to their Spanish clinics, seeking the very best in fertility treatment.
IVF has come a long way since the first 'test tube' baby was born more than 30 years ago. However, the procedure is still often shrouded in various myths and inaccurate information. Here, Dr Ernesto Bosch, exposes these myths:
MYTH 1 – STRESS LOWERS IVF SUCCESS RATES
There is currently no scientific data to show that stress plays a part in IVF success rates or failures. Embryo implantation in the womb can take place even when the woman is going through an extremely stressful situation because the success depends on the receptivity of the womb and the quality of the embryo.
Despite there being no direct impact, at IVI we ask our patients to limit the amount of stress around them at the time of fertility treatment to keep them at ease mentally. Many stressful factors can arise throughout fertility treatment, for example financial and emotional stress, so it is best for the patients all round wellbeing to keep as stress free as possible during this time.
MYTH 2 – DOCTORS CANNOT CONTROL THE SUCCESS OF AN IVF CYCLE
Doctors can control the success of an IVF cycle to a certain degree; at IVI we are able to make sure our patients have the very best chance of success through IVF treatment by evaluating and studying each embryo to determine if it is chromosomally perfect before implantation. This evaluation allows Doctors to implant patient's embryos which have the very best chance of embedding into the womb.
We also use a tool called time-lapse technology which helps increase the probability of success through IVF treatment by allowing us to determine when each embryo is at its most viable stage for implantation. This technology captures each embryo's development within a controlled incubator allowing fertility experts to monitor its progress carefully.
MYTH 3 – ACUPUNCTURE AFFECTS IVF SUCCESS RATES
Acupuncture was a very hot topic in fertility a few years ago. There have been a number of studies published over the years that sought to determine whether this practise can help IVF treatment chances, but all have revealed that there is no direct link.
There have been a number of reports however that acupuncture can help elevate stress, and whilst this cannot help improve chances of IVF, it can make the fertility treatment journey easier on patients mentally.
MYTH 4 – FROZEN EGGS ARE LESS EFFECTIVE THAN FRESH EGGS
Patients who use frozen eggs instead of fresh have the same chances of success through IVF treatment. At IVI we developed and implemented egg vitrification in Europe to improve the results of egg freezing. Previously oocyte freezing caused harm to the eggs because the formation of ice crystals would damage the cells, but the method of vitrification using liquid nitrogen sees a 97 per cent egg survival rate.
What is important to remember is that the success rates of IVF treatment using fresh or frozen eggs depends on the age of the patient when the eggs were removed. The younger the patient was when her eggs were removed the greater the chance of success.
MYTH 5 – THOSE SUFFERING FROM HIV CANNOT CONCEIVE HEALTHY CHILDREN
Patients suffering from HIV have as much of a chance of conceiving healthy children than any other patient, but this is after taking the necessary measurements to make sure the woman and baby are not exposed to the disease. When a patient comes to the clinic we assess how active the HIV virus is and this helps to determine the best course of action. Most commonly we undergo sperm washing where we carefully remove the virus from a sperm sample and use this in IVF treatment. This allows us to complete the progress without fear of transmission.
MYTH 6 – YOU CAN SELECT THE GENDER OF YOUR BABY THROUGH IVF
Gender selection is something that was developed 10-15 years ago, by analysing the chromosomal make up of an embryo. However this process is illegal across Europe and therefore both Doctors and patients are unable to select the gender of a baby even whilst undergoing IVF treatment. This is an extremely strict ruling and fertility doctors are not even allowed to evaluate that element of an embryo so the process can remain completely unbiased.
MYTH 7 – SPECIAL DIETS CAN HELP IMPROVE IVF SUCCESS
We suggest all our patients follow a healthy diet and exercise plan to keep themselves physically and mentally well, but there is no scientific research that shows any specialised diet or certain foods can help improve IVF success rates.
The only case where diet can play a crucial role in fertility is for women who have a BMI over 30. A high BMI, not only puts the woman at risk of diseases like diabetes and hypertension, but also can impede their chances of successful embryo implantation and also successful pregnancy.
MYTH 8 – THE OLDER YOU ARE, THE LESS SUCCESSFUL IVF TREATMENT IS
There is a direct link between age and success of IVF treatment and women over the age of 35 years will find their chances of success diminish rapidly, if using their own eggs. This is because the quality of eggs and ovarian reserve starts to reduce.
This however is not the case if an older patient uses donated eggs. Women can successfully conceive a child through IVF treatment up to 50 years of age by using donated eggs, and have the same chances of success than those under the age of 35.