IVI Recognized by SRI for its Research on Endometrial Receptivity and Embryo Development and Implantation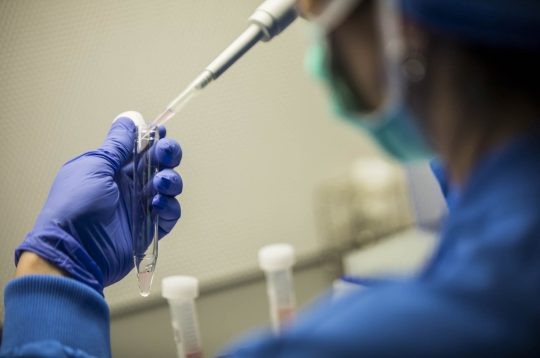 IVI continues its research to provide its patients with the best results on their path to motherhood. This year, the world leader in assisted reproduction submitted 20 abstracts at the 68th Annual Meeting of the Society for Reproductive Investigation (SRI), and two of them received the President's Award, the SRI's highest.
"It is truly a pleasure to share the latest advances in reproduction with our colleagues to shape the present and future of our field. Furthermore, having the only two Spanish researchers recognized in this category encourages us to continue our work and stay on the cutting edge in our fight against infertility," said Dr. Nicolás Garrido, director of Fundación IVI.
One of the studies that received the award was "Characterization of the Non-Classic Progesterone Receptor Membrane Component 2 (PGRMC2) During the Human Menstrual Cycle and In Vitro Decidualization," which for the first time describes the behavior of a non-classic progesterone receptor (PGRMC2) in the human endometrium to promote embryo implantation.
"One of the main causes of female infertility is implantation failure, a process for which there is currently no in-depth knowledge. For the proper implantation of the embryo, the human endometrium must create a state of receptivity in response to hormones such as progesterone. Progesterone acts through several cellular receptors, some of which have still not been studied in-depth to date," explains Dr. Francisco Domínguez, the main author of the study and a researcher at Fundación IVI.
The award-winning research was carried out by studying the expression of this receptor throughout the menstrual cycle, and during an in-vitro decidualization process in the endrometrial cells.
"In this study, an increase in protein was observed during the critical phase for embryo implantation. By extending our knowledge of PGRMC2 in this way, we gain a better understanding of how molecular signaling in the human endometrium works, and are therefore able to increase fertility rates in women with implantation problems," Dr. Domínguez adds. 
A second award for IVI
The other study receiving the SRI award was "Proteomic Analysis of Extracellular Vesicles Secreted by Primary Endometrial Epithelial Cells from Fertile Women Reveals Functions Related to Embryo Implantation Not Present in an Endometrial Epithelial Cell Line," which describes the protein content of extracellular vesicles (EVs) secreted by the maternal endometrium, and their biological processes, which are related to endometrial receptivity, embryo implantation and the early development of the embryo.
"In recent years, it has been reported that embryo implantation, and therefore pregnancy, involves communication between the maternal endometrium and the embryo that is essential for the implantation process. In this regard, it has been reported that the EVs derived from the endometrium may be internalized by the embryo and increase its adhesive and invasive capacity. Several studies have explained that these EVs may serve as vehicles to transfer mRNA and miRNA proteins that may contribute to communication between cells," notes Dr. Hortensia Ferrero, the main author of the study and a researcher at Fundación IVI.
These findings would make it possible to define non-invasive biomarkers of successful implantation, which would be additional resources to those currently used in embryo culture in assisted reproduction, and improving the ability to develop these embryos.
"If effective, it would be very useful for patients with poor quality embryos during in-vitro development to increase their ability to implant, thus increasing pregnancy rates. Furthermore, the description of these biomarkers makes it possible to define potential therapeutic targets and develop innovative treatments to improve embryo implantation," concludes Dr. Ferrero.
Both papers earned the recognition of the SRI's scientific committee and will allow us to give more hope to women and couples who have problems achieving a full-term pregnancy.