Women and couples with 3 normal embryos have a 95% chance of becoming pregnant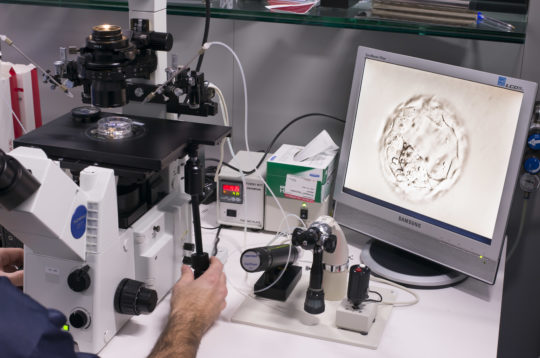 Genetic tests prior to implantation such as PGT-A allow abnormal embryos to be identified with precision without affecting implantation rates when biopsies are performed.
The PGT-A test has enabled multiple pregnancies to be reduced and, as a result, has evened up birth weights between babies born through IVF and those conceived naturally.
IVI presents an extensive scientific output at the ASRM, comprising 66 works: 24 papers, 33 posters and 3 trainee awards.
Being concerned with achieving full-term pregnancies that lead to the birth of healthy babies is a core principle that has guided the footsteps of IVI ever since it was set up almost 30 years ago. In this respect, recent findings on the possibility of achieving pregnancy by obtaining normal embryos and the guarantees involved in using preimplantation genetic tests such as PGT-A are showing promising results in terms of offering patients greater security and confidence in their reproductive processes.
In the framework of the 75th Congress of the ASRM, held in Philadelphia this year, IVI presented a study entitled "The rate of true recurrent implantation failure (RIF) is low: results of three successive frozen euploid single embryo transfers (SET)", led by Dr Paul Pirtea, a fellow of IVI in New Jersey, which demonstrates how women and couples who obtain 3 normal embryos in their IVF treatment have a 95% chance of falling pregnant.
The sample for this study was composed of more than 4500 patients aged 31-39, who were analysed between 2012 and 2018, and who had up to 3 transfers of a single embryo (SET), all of which were chromosomally normal, with 95% of them achieving a pregnancy that was carried to term.
"These findings prove something that we had already believed for years, and that is that aneuploid embryos, i.e. ones that are not chromosomally normal and have chromosomal alterations, are the main cause of recurrent implantation failure and, therefore, of failure when it comes to achieving a full-term pregnancy. Improvements in IVF rates thanks to preimplantation tests such as PGT-A allow us to fine-tune embryo selection as much as possible, reducing multiple pregnancies and at the same time increasing the chances of implantation, full-term pregnancy and a healthy new-born baby," comments Dr Juan Antonio García Velasco, Director of IVI Madrid.
PGT-A, the perfect choice for achieving viable pregnancies
Another of the studies presented at the ASRM points towards the use of preimplantation genetic tests, such as PGT-A, for precisely identifying abnormal embryos that have the smallest chances of giving rise to a full-term pregnancy.
The work, entitled "Does preimplantation genetic testing for aneuploidy (PGT-A) harm embryos? No – a multi-center, prospective, blinded, non-selection study evaluating the predictive value of an aneuploid diagnosis and impact of biopsy" and led by Dr Ashley Tiegs, a fellow of IVI in New Jersey, boasts a sample of 285 embryo transfers, all of them analysed by means of the PGT-A test for detecting aneuploidies. Out of the 50 biopsies that were abnormal, none of the embryos led to a successful pregnancy, whether this was due to implantation failure or to miscarriage following transfer.
"To all this we can add the fact that the implantation rates were the same for the embryos that were biopsied and those that were not, which indicates that embryo biopsy does not harm embryos, nor does it have a negative impact on implantation rates for these, which is something that in the past has been a constant cause for concern among the scientific community and among patients themselves," explains Dr García Velasco.
The study was carried out blind, lending scientific rigour to the research. Neither the doctors carrying out the study nor the women undergoing IVF as part of the investigation knew the result of the genetic test that was performed on the embryos for transfer. All of the embryos in the study group were biopsied, but the test was not completed until the clinical result – pregnancy, absence of pregnancy or miscarriage – was obtained. In this way, the clinical results and the results of the genetic tests could be revealed at the same time, leading to impartial results.
This was a very early stage of the research, for which the next steps will be aimed at analysing a larger sample of patients' embryos. Once complete, the study will be the only large-scale research project looking at the predictive value of aneuploidy diagnosis that has been performed to date. This will help to provide informative data concerning the current scientific debate on the reliability of genetic testing.
"Patients should continue to trust in preimplantation tests such as PGT-A, and be secure in the knowledge that when an embryo is labelled as abnormal and is not transferred, that embryo is not rejected in error. The PGT-A test provides rigorous and reliable data and saves patients time, money and emotional distress, giving them confidence in the transfer of normal embryos, with a high probability of going on to have a healthy baby," concludes Dr García Velasco.
PGT-A is one of the most important advances with regards to IVF and it is responsible for the improvement in single embryo transfer (SET) rates. SET, in turn, has enabled the risks associated with multiple pregnancies and births to be drastically reduced, which, consequently, has brought birth weights among babies born through IVF into line with those born from natural conception.
66 works by IVI at the ASRM: 24 papers, 33 posters and 3 trainee scientist awards
The ASRM is the largest American congress on assisted reproduction and it brings together professionals from all over the world to discuss, consider and shape the future of reproductive medicine.  
At this edition, IVI presented a total of 66 works. Of these, 24 were selected for communication as papers (9% of the total number of papers presented at the ASRM), 33 were exhibited as posters (accounting for 4% of all posters at the ASRM), and in addition there were 3 trainee scientist awards, 1 presentation in the nominees section of the congress general award and 1 video.
IVI continues to pursue research in order to bring its patients and the scientific community the latest reproductive advances and the most state-of-the-art treatments and techniques. Thanks to this, IVI has the best clinical results and can offer its patients the best possible guarantees of fulfilling their dream of becoming parents.